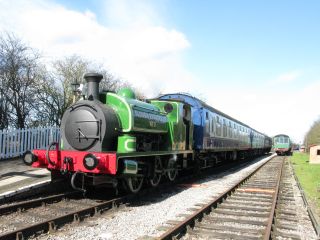 Special Events
'Winter': (date TBA) 29th Jan 2016
'Spring': (date TBA) 27 Apr 2018
'Summer': (date TBA) 16th June 2017
'Autumn': (date TBA)
'Winter': (date TBA) 8th December 2017 18th Nov 2016 <– NOTE CHANGE OF DATE!!
No further auctions scheduled for 2016.
Members are invited to bring along their unwanted railwayana, model railways, transport-related DVDs, books, models, etc, or any other tools or miscellaneous items that might appeal to a group of railway enthusiasts. Then all can join in the fun of bidding. (Don't forget your wallets!)
The auction is always an enjoyable evening, with great camaraderie, where members can often pick up a real bargain!
All proceeds go to the continued upkeep and future repairs of No.3 (pictured).
Friday, TBA 20th April 2018
All members are invited and encouraged to attend this important meeting.
The following important areas will be covered:
A review of the Society's activities over the past year;
plans for the current year;
review of the Society's accounts;
election of Society officials
presentation of the Alan Christmas Award to the Society member (non-Director) who has made a substantial contribution to the operation of the Society over the past year;
and more...
The remainder of the evening will be filled with entertainment.